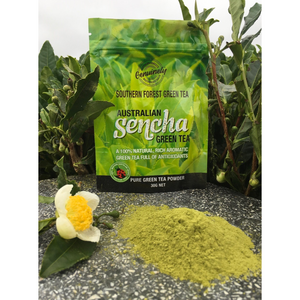 Pure Green Tea Powder 30g
Pure Green Tea Powder is made from the first flush of tea leaves on the season, this flush is highly valued with the most amount of beneficial nutrients and antioxidants.
Grown and processed on the farm in Western Australia's beautiful Southern Forest Region. The tea is grown without the use of herbicides, pesticides and fungicides, we believe a healthy tea needs to start from healthy soil. We grow several tea varieties here on the farm they are blended to create a unique tasting Sencha green tea powder.
Sencha green tea has a slightly astringent grassy flavor with ocean undertones. This tea has a delightful aroma, a testimonial to its freshness. 
The powder can be used to make lattes, smoothies, cakes, biscuits and even added to your favorite breakfast cereals.

30g of finely ground Pure Green Tea Powder is packaged in a small foil satchel for maximum freshness.