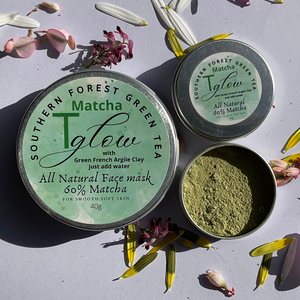 Matcha Tglow with French Argile Clay
An all natural Face Mask made with 60% Matcha combined with French Argile Clay. All you need to do is add water, for a luxurious clean soft skin. Best for Oily skin types
Matcha has been used through the ages to improve skin tone, it contains high levels of the antioxidant epigallocatechin gallate (EGCG), this antioxidant neutralizes free radicals that damage skin cells.
Also helps protect the skin cells from UV damage by repairing DNA of skin cells. Please note it does not block sun rays and is not a replacement sunscreen. Matcha also contains caffeine and tannin these compounds shrinks blood vessels resulting in reduced puffiness of the skin.
Matcha is amazing on its own but we have combined it with a fabulous French Argile Clay. This clay is known to increase blood circulation and flow of oxygen to the skin as well as remove oily impurities from the skin.